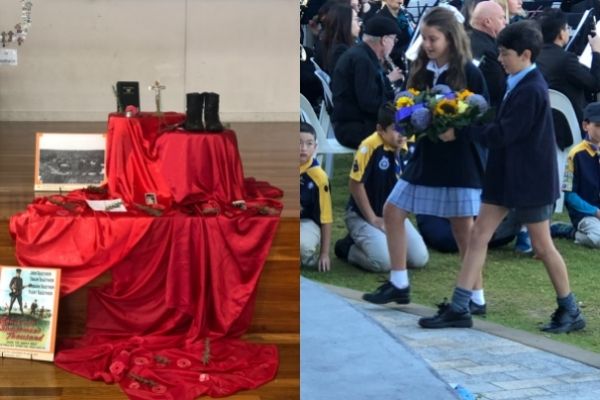 On Sunday the 25th April 2021 our school captains, Zoe and William, proudly represented St Michael's at the local ANZAC Day Service.
Zoe and William actively participated in the service which was organised by the Lane Cove Sub-Branch of the Returned and Services League. 
Zoe and William were part of a number of ANZAC Day 'firsts' for the Lane Cove community. It was the first time that the service had been held at the new community area known as 'The Canopy'. The Canopy enabled a large crowd to assemble together and easily view the proceedings of the service. A number of St Michael's families were scattered throughout the crowd. It was the first time both the Australian and New Zealand flags were flown side by side and lowered to half-mast and it was the first time the Australian National Anthem was sung followed by the New Zealand National Anthem sung in Maori then English.
These were memorable moments for Zoe and William but more importantly it was the first time, as school captains, that they had the opportunity to lay a wreath to honour all those who made the supreme sacrifice for us in time of war.   
On Monday, the Year 6 students organised and presented an ANZAC Day Prayer Service in the school hall with all students from Kindergarten to Year 6. The school leaders lead the students through memories of why we gather to remember those who served to defend Australia and prayers to acknowledge their service to our country. The students showed reverence during the Ode of Remembrance and The Last Post. They prayed the following closing prayer to conclude the service: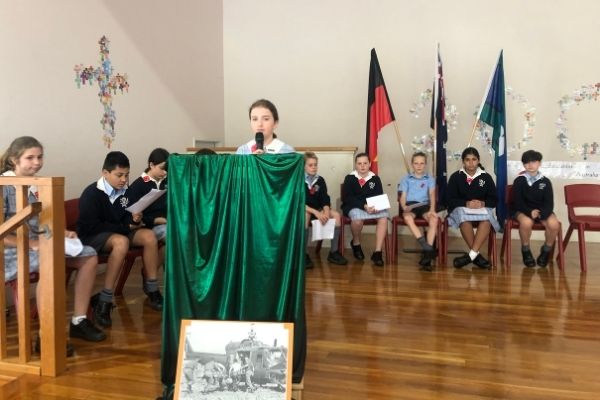 Leader: 
God our Father,
We have stopped to remember those who died in war. 
We pray for all men and women in the Australian and New Zealand defence forces who work to continue to keep our countries safe. 
We ask that like your Son Jesus who sacrificed his life for us, that the sacrifice of dying to protect our country made by our service men and women is never forgotten.
Holy Spirit, send your loving power and strength to bring about peace in our world. We ask this through Christ our Lord, 
All:
Amen.